The Question: why did Andros Townsend thrive against Montenegro?
Was it the Spurs man's natural ability, his partnership with Kyle Walker, Roy Hodgson's tactics, or Gareth Bale's sale?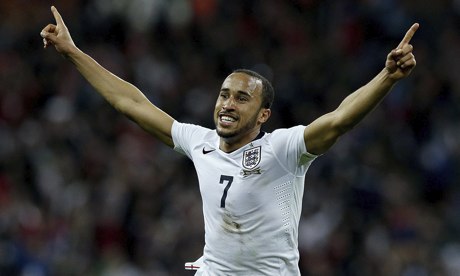 Andros Townsend played with a sense of liberation rare for England players and proved a real handful for Montenegro's defence. Photograph: Jonathan Brady/PA
For a game we keep on being told is simple, football has proved remarkably resistant to analysis over the past 150 years. As those who scorn the sport are fond of pointing out, it is just 22 men trying to kick a ball between a couple of pairs of sticks and yet, as is acknowledged by Chris Anderson and David Sally, the authors of The Numbers Game, an investigation into the use of data in football, in terms of applying statistical methodology to understanding it, we are now only at the level doctors using leeches were in understanding medicine. Football may be a simple game but understanding it is astonishingly complex.
And that, perhaps, is the secret of the game's popularity: it can be grasped by all and yet nobody fully understands it. Every answer simply leads to another question. Take, for example, Andros Townsend's performance against Montenegro on Friday night. A number of tweeters made the point that, however you analysed the game tactically, he won the game by his willingness to run at the Montenegro defence. To which, the answer is twofold: isn't running part of tactics, and why was he able to run?
This is where we come up against the problem of fundamentalism. There are those who, whatever the situation, will deny the importance of tactics and, equally, there are those who, whatever the situation, will insist upon a tactical explanation. Both are misguided. The idea that how players are distributed on the pitch is irrelevant is ludicrous, but so too is the idea that players are no more than discs on a board. Of course their individual talents matter, and so too do their personality, their mood and their fitness – as well as the players around them and the players they are up against.
Why did Townsend succeed against Montenegro? To a large extent, of course, it was because of his natural ability: he is quick, technically adept and has a powerful shot. He played with a sense of liberation rare for
England
players, a willingness to take risks, which can be put down to a number of psychological factors: it was his debut and so he isn't as scarred by the neurosis of failure as many more senior players; he is confident after an impressive start to the season; the Wembley crowd, perhaps recognising the significance of the occasion, was unusually supportive; and he seems naturally ebullient.
Immediately, though, it becomes apparent there is a further regress: is that carapace of self-belief itself the result of a difficult beginning, the nine loan clubs and family tragedy? Would he have made such an impressive start to the season if it hadn't been for the sale of Gareth Bale, the indifferent form of Nacer Chadli and an injury to Aaron Lennon? After all, he didn't play against Crystal Palace and came into the Tottenham side only after dazzling away to Dinamo Tbilisi in a Europa League qualifier. What if Darko Glisic, the Dinamo left-back, had had a stormer that night, rather than having to be withdrawn at half-time? And who knows what off-field factors might have influenced Glisic's poor display?
And then there are the tactical issues. The England manager Roy Hodgson said that one of the reasons he selected Townsend was his club link-up with the right-back Kyle Walker (in which case it's fortunate Walker picked up his second caution of the campaign against Montenegro rather than in the previous game, away to Ukraine – and again, you wonder what might have happened had Glen Johnson not been injured).
Had Mirko Vucinic, who naturally pulls wide, been available, or had Stevan Jovetic been anywhere near fully fit, Walker might have had more of a defensive job to do. As it was, faced with just the ponderous Vladimir Volkov, Walker was able to overlap again and again, which caused problems for Milan Jovanovic, the Montenegro left-back.
If he followed Townsend, he risked leaving space for Walker to accelerate into. If he retained his position, though, Townsend was able to cut inside and attack his weaker foot.
Making that even more of a problem was that Branko Brnovic, the Montenegro coach, had opted to switch Elsad Zverotic and the more creative Branko Boskovic. The logic, presumably, was to deploy Zverotic to try to block in Leighton Baines on the England left, while using Boskovic almost as a deep-lying playmaker to the left of Nikola Drincic to help Montenegro retain possession and build from the back.
Boskovic, now 33, has a delicate first touch and is a gifted user of a ball, but his problem since his teenage years at Crvena Zvezda has been his lack of pace. Given he is not a natural defender – something evident in the clumsy foul he committed on Danny Welbeck a couple of minutes before scoring an own goal – he was powerless to stop Townsend's thrusts infield.
All of those factors – and perhaps many others – influenced Townsend's display. Was it his natural ability? Yes. Was it his willingness to run at defenders? Yes. Was it tactical issues? Yes. None of which is necessarily important to Townsend. It may be that he is one of the rare players who considers the bigger picture and works out his best avenues of attack in detail in advance. It may be that Hodgson told him to attack on the inside (although even if he had a sense that Boskovic rather than Zverotic would start in the holding role he can't have been sure he would). It seems more likely, though, that early in the game Townsend found himself in space and getting a run at Jovanovic on the diagonal and just kept doing it.
Anybody who watched it can dissect Townsend's performance according to their own biases. Those who believe in individual talent see a great individual. Those who focus on motivation see a player playing with great confidence. Those who prefer to look at the overall tactical structure can find reasons he had the space in which to express himself. A case can even be made, for those who prefer to explain the hurricane by finding the butterfly that flapped its wings, that England's victory over Montenegro was caused by the development in the 1960s of the electronic calculator by the Japanese company Sharp.
Atvidaberg won the Swedish league in 1972 and 1973, playing a style of football heavily influenced by the Total Football of Ajax. Atvidaberg is a town of only 6800 inhabitants, but its club was funded by Facit, a local company that made mechanical calculators for the global market.
When electronic calculators became widely available it failed to react and, amid financial problems, it cut funding to the football team. Stars such as Ralf Edstrom and Roland Sandberg were sold, and the way was cleared for
Bobby Houghton at Malmö and then Hodgson at Halmstad
to dominate the Swedish game with their Allen Wade-influenced football, complete with such unfamiliar concepts as an offside trap, zonal marking and long balls to the centre-forward. So was launched Hodgson's career and the beginning of the international reputation that led to him being appointed England manager.
Even Hodgson's most ardent critics must accept that picking Townsend was a decision he got manifestly right – even if there's disagreement over why he picked him or what the major factor in his match-winning performance was. Everything in football is connected and everything in football is relative – and that makes its rainbow deceptively difficult to unravel.
• Chris Anderson and David Sally will be discussing their book next Saturday at the
London Sports Writing Festival
http://www.theguardian.com/sport/blo...wnsend-england